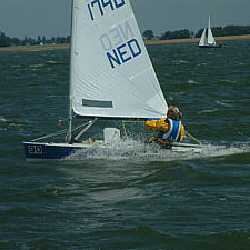 Photo © Keith Binns
Speed
Splash
Difficulty:

intermediate

The Splash was developed by Roel Wester and Koos de Ridder. It is aimed for sailors who leave the Optimist, but are still too light and too young for the follow-up classes. It has a very wide and deep cockpit with plenty of room to move, while sitting-out on the narrow side decks of the Splash is very comfortable. The Splash is a strictly one-design class, with starting weights for sailors at around 48kg. Fleets of Splashes are found in Great Britain, France, Canada, Finland, Belgium, Spain, Latvia, Poland & Sweden with interest in the USA, New Zealand, Australia & Singapore. In 1998 the Splash was recognised as an international one-design class by ISAF.

Size: 3.55 metres long, 1.3 metres wide, weighing approx 55 kilograms
Sails: 5.5 square metres

Number of sailors: 1

Links:
---

List of all boat types

If you notice an error or omission in our information, please contact us.