Hilary Lister

Hilary Lister can only move her head, but set a record in 2005 when she sailed solo across the English Channel by using a 'sip and puff' system to control the sails and steering.
Geoff Holt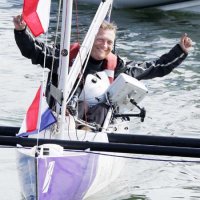 In 2007, quadriplegic sailor Geoff Holt (paralysed from the chest down) become the first disabled person to sail alone around Great Britain.
Sailing for the disabled
Winning a gold medal. Crossing the oceans. Being in sole control of a boat at sea. These are things that disabled sailors can achieve, just as much as the able-bodied!
With the right equipment, it's likely you can get afloat and begin to follow a dream. Those that try sailing often speak of the new freedom it brings them.
We have a more in-depth article, No Barriers (sailing for the older generation and the disabled), which covers the basics of how and why.

See also a list of boats suitable for physically disabled people (including those raced at the Paralympic games)
The I.F.D.S.
The International Association for Disabled Sailing are the worldwide governing body for disabled sailing, including racing at national and Paralympic level (for example, the World Blind Sailing Championships).

They have a useful manual for disabled sailors which contains information for sailors and event organisers, all about how to assist disabled people to actively participate. This manual covers:

These international organisations can be contacted (see below) but there are also sailing associations in your country that deal specifically with disabled sailing, as well as the main national body for sailing in each country.



Other useful resources
We have a selection of photos showing disabled sailors racing and the various seating arrangements on various boats.

Sailability International provide on-the-water test reports of boats, each written a disabled person.
Charities that can get you on the water:
In addition to the disabled sailing associations in your country there are charities which offer a variety of opportunities to get afloat. We currently have information for a few countries only:

Please contact us if you know of other charities around the world.
Can anyone sail?
You do not need to be fit or able-bodied to sail, as there are such a variety of boats to cater for everyone. If you cannot swim, do not sail alone - just make sure your instructor or companion is aware. Disabled sailors may have to travel further to find a suitably-equipped sailing venue.
Read more frequently-asked questions