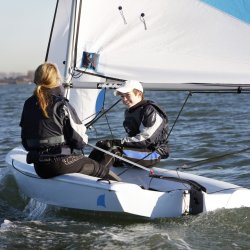 Photo © Mike Austen
Speed
RS Quba
Difficulty:

beginner

Big and comfortable enough for mum or dad, small and light enough to be handled by children - quick to rig, easy to carry on the roof-rack and demanding virtually no maintenance, the RS Quba makes sailing very easy, exciting and affordable. The Q'BA is ideal to teach the youngsters, cruise around the bay or race with the more powerful Pro rig. The Sport mainsail has an easy reefing system and you can add a jib for sailing with two people. The Comptec PE3 highly durable construction system is ideal for families and clubs.

Size: 3.53 metres long, 1.42 metres wide, weighing approx 58 kilograms
Sails: 8.3 square metres

Number of sailors: between 1 and 2
Weight of sailor(s): ideally between 45 and 100 kilograms (if racing)

Links:
---

List of all boat types

If you notice an error or omission in our information, please contact us.