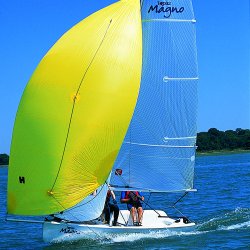 Photo © Jeremy Evans
Speed
Topaz Magno
Difficulty:

beginner

The Magno is a great all-rounder with three-sails and a deep, spacious cockpit which can comfortably fit up to four sailors. Two seats for children are positioned at the front of the cockpit and a fibreglass thwart in the centre together with seating on the side of the boat makes this a really roomy choice. Sails are available in Dacron for beginners or Mylar for more experienced sailors.

Size: 3.94 metres long, 1.56 metres wide, weighing approx 89 kilograms
Sails: 10.42 square metres (extra sail called spinnaker is 10.58 square metres)

Number of sailors: between 2 and 3

Links:
---

List of all boat types

If you notice an error or omission in our information, please contact us.