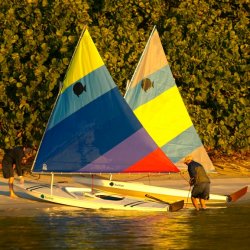 Photo © LaserPerformance
Sunfish
Difficulty:

beginner

The Sunfish Class has sailors from 29 countries and 4 continents. More than 300,000 boats have been built: A record that has not been broken by any other sailboat! The stable hard-chined hull and versatile lateen sail rig of the Sunfish makes her ideal for entry-level sailors of all ages, genders, and abilities. The rig can be easily de-powered so that "featherweights" can race competitively right along with the Class hot-shots. If you crave an adrenaline high, think of joining 100 Sunfish on a long starting line when it's blowing a good breeze. The regatta schedule includes continental and international events including the Pan Am Games (2nd largest sports event after the Olympics). - by Paul Odegaard

Size: 4.24 metres long, 1.25 metres wide, weighing approx 55 kilograms
Sails: 6.97 square metres

Number of sailors: 1
Weight of sailor(s): ideally between 64 and 86 kilograms (if racing)

Links:
---

List of all boat types

If you notice an error or omission in our information, please contact us.