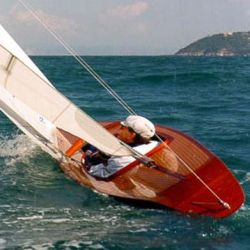 Photo © Hasse Malmsten
Speed
2.4m
Difficulty:

beginner

This boat is raced at the Paralympic games as it is suitable for disabled sailors

The 2.4 Metre originated from Stockholm 1983 by local yacht designers who used the "R Metre" rule to create a single-handed keelboat, 2.4mR. The helm sits down in the boat facing forward with all the controls within arms reach, the sailing is not physically demanding and racing is done in one open class with men, women, young and old, abled and disabled sailors racing together.

Size: 4.1 metres long, 1 metres wide, weighing approx 265 kilograms
Sails: 7 square metres

Number of sailors: 1

Links:
---

List of all boat types

If you notice an error or omission in our information, please contact us.