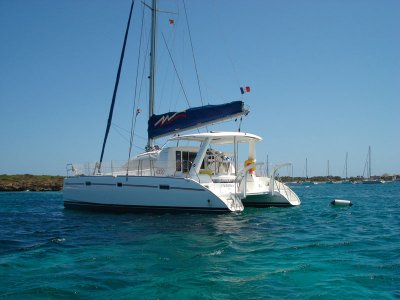 With thanks to:



The Moorings


Download the
entire article
as a PDF


Show map or
satellite photo
Grand-prix cruising
1: Choosing a boat, and a holiday package
We wanted sunny weather and light winds, while the fact that we only had one week ruled out a long-haul flight. We settled on Majorca as it tied in with a regatta I was competing in ó the fact I knew the waters off Palma pretty well helped sway me, as did the availability of flights.
We probably could have arranged a private charter, but for our first cruising holiday we wanted the security and experience of a large charter firm. The Moorings have a base in the main marina in Palma, good choice of boats and a very good reputation.
As I liked the idea of a boat that didnít heel over and scare all the non-sailors we went straight for a cat. I have never sailed one before but I figured it couldnít be that different to any other boat. I knew that if the holiday was going to be a success we would need a bit of comfort so the 40ft Moorings 4000 seemed to fit the bill ó each family of four would effectively have a hull to themselves with two double cabins and a heads/shower. The brochure said it slept 10 so that sounded about right for eight of us.
With Palma marina only 10 minutes from the airport there was little to worry about in the way of logistics. Everything was done to make our lives easy ó the yacht comes supplied with fuel, water, linen, towels, snorkelling equipment and of course a tender and outboard. As an optional extra you could also order supplies to save the need for a big shop on arrival. We took advantage of this and also ordered extra safety netting to stop the kids from slipping through the guardrails. With hindsight this was an expensive (130 Euros) and unnecessary extra as we didnít let the kids out of the cockpit without an adult, but it did provide some peace of mind as two of the four children couldnít swim. Our boat was only one year old and it was immaculately clean and in good working order.
---
With thanks to:



The Moorings
More articles on sailing holidays