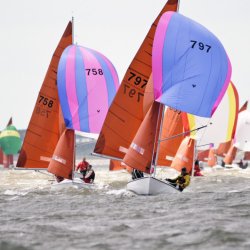 Photo © tuckettphoto.com
Speed
Squib
Difficulty:

intermediate

This boat is suitable for disabled sailors and the able-bodied

The National Squib has one of the largest National Championship fleets of any class, ranking consistently in the top ten - and in the top three of adult two person boats. There were 108 Squibs racing in the 2009 National Championship and 70 made the trip to Dun Laoghaire in 2010, in spite of the recession and the long distance. Our 50th Anniversary in 2018, saw 100 Squibs entered for the Champs at Cowes. Squibs attract women and men of all ages, from some very successful teenagers in Ireland and on the Solent, to older sailors enjoying their Squibbing after successes in a variety of dinghy classes. Squib fleets are to be found all over the British Isles, several flourish in Ireland, also in Scotland, North Wales, Lancashire, Yorkshire, the Midlands, East Anglia and all along the South coast - Kent, Sussex, Solent, Dorset and Devon. Additionally there are sightings of Squibs in the British Virgin Islands, Barbados, Australia, South Africa and closer to home in Norway, Denmark and Germany. Squibs are for everyone - everywhere!



Number of sailors: 2

Links:
---

List of all boat types

If you notice an error or omission in our information, please contact us.