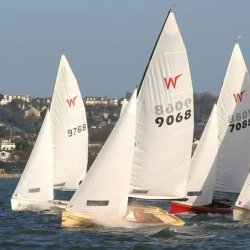 Photo © David Harding / www.sailingscenes.com
Speed
Wayfarer
Difficulty:

beginner

The Wayfarer dinghy was designed by Ian Proctor in 1957 and has since acquired an unrivalled reputation as a tough and seaworthy cruising dinghy, yet at the same time being responsive and rewarding to race. Well over 10,000 boats have now been built and there are many strong club racing fleets around the UK. In addition over 50 boats regularly attend the UK Nationals and participate at the World Championships which are held every three years.

Size: 4.82 metres long, 1.86 metres wide, weighing approx 169 kilograms
Sails: 15.9 square metres (extra sail called spinnaker is 13.5 square metres)

Number of sailors: between 2 and 5

Links:

Tuning:
---

List of all boat types

If you notice an error or omission in our information, please contact us.