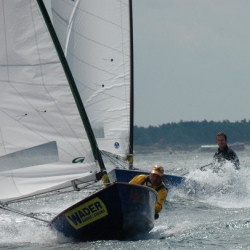 Photo © Ania Pawlaczyk
Speed
OK
Difficulty:

intermediate

The OK dinghy is an International class with strong fleets in the UK, Denmark, Sweden, Germany, Belgium, Poland as well as Australia, New Zealand, India, Korea, Thailand, Malayia. It is the singlehander sailed in the Asian Games every four years. In the UK there is a strong open meeting circuit as well as International competition just across the channel, for example Kiel Week, the Spring Cup at Medemblik and Warnemunde Week. Club racing for the OK is mainly on the East and South coasts.

Size: 4 metres long, 1.2 metres wide, weighing approx 72 kilograms
Sails: 9.45 square metres

Number of sailors: 1
Weight of sailor(s): ideally between 80 and 100 kilograms (if racing)

Links:
---

List of all boat types

If you notice an error or omission in our information, please contact us.