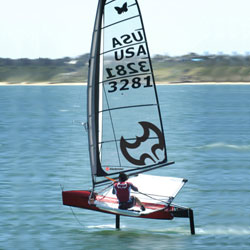 Photo © Virginia Veal
Speed
International Moth
Difficulty:

expert

Singlehanded, radical development class that has seen some true innovations in sailing. Most moths are now ultra-thin & ultra-light. The latest developments have been giving the Moths hydrofoils and foil wings.

Size: 3.35 metres long, 2.25 metres wide, weighing approx 6 kilograms
Sails: 8 square metres

Number of sailors: 1
Weight of sailor(s): ideally between 60 and 80 kilograms (if racing)

Links:
---

List of all boat types

If you notice an error or omission in our information, please contact us.