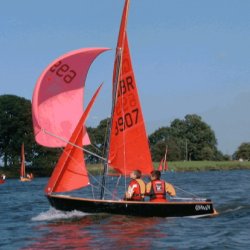 Photo © John Harrison
Speed
Mirror
Difficulty:

beginner

The Mirror is a classic design with a strong UK racing circuit. It is a excellent boat to start sailing on.

Size: 3.32 metres long, 1.4 metres wide, weighing approx 46 kilograms
Sails: 6.4 square metres (extra sail called spinnaker is 6 square metres)

Number of sailors: between 1 and 2
Weight of sailor(s): ideally between 100 and 110 kilograms (if racing)

Links:
---

List of all boat types

If you notice an error or omission in our information, please contact us.