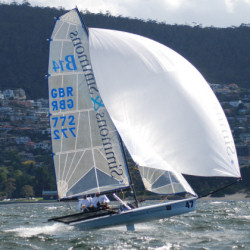 Photo © ADMIX B14 worlds media
Speed
B14
Difficulty:

expert

The B14 was designed in 1986 by 18ft skiff champion Julian Bethwaite. The blend of skiff ideas, such as hiking racks, retracting spinnaker pole, asymmetric spinnaker, flexible topmast and a dish-like cockpit make the B14 an attractive boat.

Size: 4.5 metres long, 3.05 metres wide, weighing approx 62 kilograms
Sails: 17.2 square metres (extra sail called spinnaker is 29.2 square metres)

Number of sailors: 2

Links:
---

List of all boat types

If you notice an error or omission in our information, please contact us.