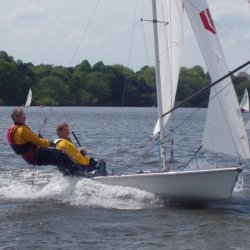 Photo © Phil Hackney
Speed
Laser 2
Difficulty:

intermediate

The Laser 2 is an exciting, ISAF recognised, International One Design racing dinghy which is ideal for couples and lighter weight crews (less than 150kg total). The combination of a trapeze for the crew and a large spinnaker ensures exciting sailing. With a tough hull, it works well off any beach, and the traditional spinnaker gives greater flexibility of racing venues and courses than is found with the newer asymmetric dinghies. Nationally there is a friendly fleet and well-established, active UK and International class associations. It can be bought new for around £5000, whilst championship condition second hand boats sell for upwards of £1000. Author: Mike Croker

Size: 4.39 metres long, 1.42 metres wide, weighing approx 80 kilograms
Sails: 8.64 square metres (extra sail called spinnaker is 10.2 square metres)

Number of sailors: 2
Weight of sailor(s): ideally between 90 and 150 kilograms (if racing)

Links:
---

List of all boat types

If you notice an error or omission in our information, please contact us.