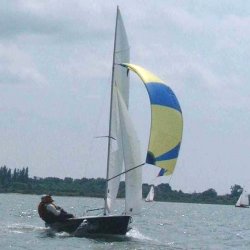 Photo © David Brown
Speed
Kestrel
Difficulty:

intermediate

The Kestrel is a 2-man fibreglass dinghy, designed by Ian Proctor, with a conventional spinnaker and no trapeze. Capable of exciting racing, with a PY of 1038, it is also widely cruised and makes a lighter and faster alternative to the Wayfarer. There is an active Owners Association which organises open meetings and the National Championships. Author: Neil Cummins

Size: 4.81 metres long, 1.7 metres wide, weighing approx 120 kilograms
Sails: 14.1 square metres (extra sail called spinnaker is 11.1 square metres)

Number of sailors: 2
Weight of sailor(s): ideally between 130 and 160 kilograms (if racing)

Links:
---

List of all boat types

If you notice an error or omission in our information, please contact us.