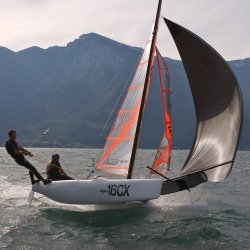 Photo © Jeremy Evans
Speed
Topaz 16
Difficulty:

intermediate

The Topaz 16 was designed in 2007 by Olympic multihull legends Yves Loday and Robert White. The boat comes with a choice of rig options. The Topaz 16C or 16CX is an accessible but high performance cat designed for two people. The Topaz 16C has a twin trapeze and boasts a powerful 14.25m2 sail area courtesy of a large Mylar main and jib. The 16CX upgrade includes an impressive 11.18m2 gennaker. The Topaz 16 is also available in a 16S single trapeze School Version, with a smaller and more easily controlled Dacron main and jib.

This is a catamaran (it has two hulls)
Size: 4.72 metres long, 2.25 metres wide, weighing approx 140 kilograms


Number of sailors: 2

Links:
---

List of all boat types

If you notice an error or omission in our information, please contact us.