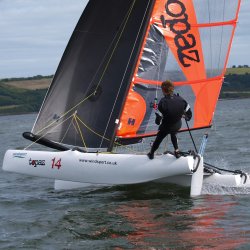 Photo © Jeremy Evans
Speed
Topaz 14
Difficulty:

intermediate

The Topaz 14 was designed in 2008 by Olympic multihull legends Yves Loday and Robert White. The boat comes with various rig options. The Topaz 14C or 14CX is an accessible but high performance cat designed for two people. The Topaz 14C has a twin trapeze and boasts a powerful 11.5m2 sail area courtesy of a large Dacron main and jib. The 14CX upgrade includes an impressive 10m2 gennaker. The Topaz 14Xtreme is a singlehanded "ride of a lifetime". The XTREME has a high aspect Mylar mainsail coupled with a 9.9m2 asymmetric gennaker plus a trapeze to take full advantage of the staggering amounts of available power.

This is a catamaran (it has two hulls)
Size: 4.25 metres long, 2.05 metres wide, weighing approx 110 kilograms
(extra sail called spinnaker is 10 square metres)

Number of sailors: between 1 and 2

Links:
---

List of all boat types

If you notice an error or omission in our information, please contact us.