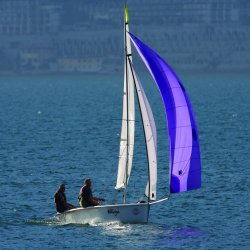 Photo © Jeremy Evans
Speed
Topaz Omega
Difficulty:

beginner

The Omega is an incredibly versatile three-sail boat that is fantastic for club racing, teaching or estuary sailing and picnicking. This boat is the largest in the Topper range (the hull can comfortably hold up to six). The beamy, chined hull inspires great confidence making the Omega stable and easy to control. The huge, spacious cockpit with its gnav kicker offers roomy and comfortable sailing and is an ideal teaching platform for large groups. The boat can be sailed single-handedly due to the zip-reefing system in the mainsail adding yet another layer of versatility.

Size: 4.7 metres long, 1.88 metres wide, weighing approx 140 kilograms
Sails: 14.02 square metres (extra sail called spinnaker is 14.66 square metres)

Number of sailors: between 2 and 6

Links:
---

List of all boat types

If you notice an error or omission in our information, please contact us.