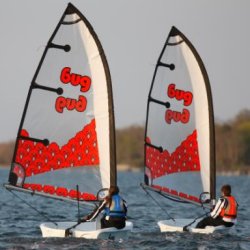 Photo © LaserPerformance
Speed
Bug
Difficulty:

beginner

With its innovative dual rig system designed for easy and economical sailing, the Bug accommodates young sailors from championship racers to beginners. Thanks to the Bug's two position gooseneck, both rigs use the same boom and bottom mast section so changing sales only takes a few minutes.

Size: 2.6 metres long, 1.3 metres wide, weighing approx 46 kilograms
Sails: 5.3 square metres

Number of sailors: 1
Weight of sailor(s): ideally between 30 and 70 kilograms (if racing)

Links:
---

List of all boat types

If you notice an error or omission in our information, please contact us.