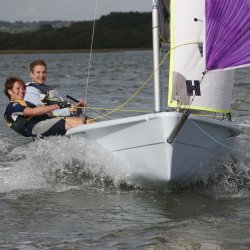 Photo © Mike Austen
Speed
RS Vision
Difficulty:

intermediate

On Lochs and lakes, in harbours and estuaries, there is absolutely nothing quite like messing about in boats. And there is a real RS Boat to do it in. A boat that is tough and virtually maintenance free. A boat that is roomy, stable and great to sail. A boat that looks a million dollars, but wont cost the earth. The RS Vision - the best selling boat in its sector of the market in the last 3 years. With sparkling performance, a fully self draining cockpit and a list of specific accessories, this is the boat that truly has it all. With an all new owners club and events circuit, the RS Vision class is very much building momentum within its current and future owners. Author: Matt Hogben

Size: 4.6 metres long, 1.75 metres wide, weighing approx 125 kilograms
Sails: 12.2 square metres (extra sail called spinnaker is 12.6 square metres)

Number of sailors: between 1 and 4
Weight of sailor(s): ideally between 60 and 230 kilograms (if racing)

Links:
---

List of all boat types

If you notice an error or omission in our information, please contact us.