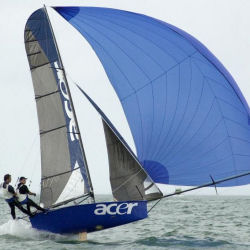 Photo © Garrick Cameron
Speed
12ft Skiff
Difficulty:

expert

The 12ft skiff is a light weight, high performance development class sailed in Australia and New Zealand, and the UK from 2006. It has a hull weight of only 45kg, and typically has 3 or 4 rigs enabling the boat to be raced properly in all wind strengths between 5 and 35 knots. There are minimal hull measurement rules basically restricting length, beam and weight giving freedom for people to design their own boats.
Campaigning a 12 requires a range of skills, however, with recent equipment developments, and the introduction of carbon masts, 12s are very manageable boats and any sailor with relative experience, such as Cherubs, International 14s or Moths would quite easily adapt.

Size: 3.7 metres long, 1.8 metres wide, weighing approx 45 kilograms


Number of sailors: 2

Links:
---

List of all boat types

If you notice an error or omission in our information, please contact us.