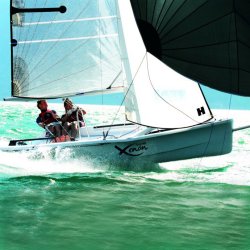 Photo © Fabrizio Prandini
Speed
Topaz Xenon
Difficulty:

intermediate

Ian Howlett & Rob White designed rotomoulded polyethylene club racer. The Topaz Xenon is seriously tough and virtually maintenance free. Designed for two with main, jib and asymmetric spinnaker and no trapeze. The Xenon has been chosen for the 'Champion of champions' Endeavour Trophy that sees national champions from each class compete against each other. The boat has an impressive two metre beam allowing the boat's substantial power to be easily controlled. And the chine in the hull provides even greater stability. The powerful battened Mylar mainsail comes with a reefing system allowing performance to be adjusted to suit an even wider variety of skill levels.

Size: 4.5 metres long, 2 metres wide, weighing approx 125 kilograms
Sails: 15.5 square metres (extra sail called spinnaker is 16.38 square metres)

Number of sailors: 2

Links:
---

List of all boat types

If you notice an error or omission in our information, please contact us.