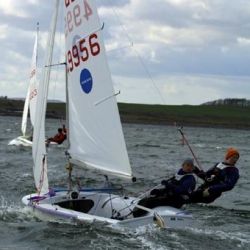 Photo © Peter Bentley
Speed
420
Difficulty:

intermediate

The 420 is a two-man single-trapeze planing dinghy with conventional kite and is sailed in over 60 nations. The 420 has been selected for use in the ISAF Youth World Championships in 2003 and 2004.

Size: 4.2 metres long, 1.63 metres wide, weighing approx 80 kilograms
Sails: 13 square metres (extra sail called spinnaker is 9 square metres)

Number of sailors: 2
Weight of sailor(s): ideally between 110 and 145 kilograms (if racing)

Links: Tuning Guides:
---

List of all boat types

If you notice an error or omission in our information, please contact us.