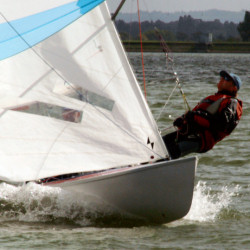 Photo © Leslie Everitt
Speed
Flying Dutchman
Difficulty:

expert

Designed in 1952, the Flying Dutchman has stood the test of time and continues to provide exhilarating performance sailing for everyone. With a long and prestigious career as an Olympic class, the Flying Dutchman (FD) has attracted some of the UK's most well known sailors including Rodney Patisson, Keith Musto and Adrian Stead. The FD is well supported in the UK and Internationally through active class associations who provide training, open meetings, regional events, National, European and World Championships each year in locations as far apart as Whitstable and Australia.
Progressive rule changes have allowed the class to embrace new technology as it has become available including the introduction of composite construction and carbon spars. While exciting, these changes have been carefully managed to avoid making older boats obsolete. Author: Toby Dale

Size: 6.06 metres long, 1.78 metres wide, weighing approx 130 kilograms
Sails: 18.6 square metres (extra sail called spinnaker is 21 square metres)

Number of sailors: 2
Weight of sailor(s): ideally between 140 and 180 kilograms (if racing)

Links:
---

List of all boat types

If you notice an error or omission in our information, please contact us.