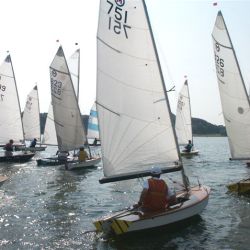 Photo © Roy Chaplin
Speed
British Moth
Difficulty:

intermediate

The British Moth is an 11 foot, one design, single handed dinghy with superb light wind performance and sheer exhilaration in a blow. Quick to plane, with a fully stayed rig, scow bow and simple hard chine hull built to closely defined tolerances. The cockpit and controls can be laid out according to the individual's preferences and the rig is fully adjustable enabling it to be powered up or de-powered to suit a variety of helm weights and sailing conditions. Author, Bill Gribble

Size: 3.55 metres long, 1.2 metres wide, weighing approx 45 kilograms
Sails: 8 square metres

Number of sailors: 1
Weight of sailor(s): ideally between 65 and 80 kilograms (if racing)

Links:
---

List of all boat types

If you notice an error or omission in our information, please contact us.