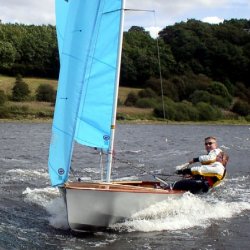 Photo © Jackie Bradley
Speed
Enterprise
Difficulty:

intermediate

The Enterprise dinghy was designed in 1955 for the News Chronicle. This national newspaper wanted to encourage the public to get sailing and sponsored Jack Holt to design a new class of boat that would not only be cheap, but also easy to own and use. The Enterprise was the result, and it launched to huge publicity after a ground-breaking sea-trial, sailing at night across the Channel in January 1956. Now 60 years later over 24,000 boats have been registered worldwide and it remains a popular and affordable dinghy which is instantly recognisable by its light blue sails. Many national, world and Olympic champion sailors have raced Enterprises and the class continues to grow through a wide choice of affordable new and second-hand boats for racing and cruising activities.

Size: 4.04 metres long, 1.6 metres wide, weighing approx 94 kilograms
Sails: 10.5 square metres

Number of sailors: 2

Links:
---

List of all boat types

If you notice an error or omission in our information, please contact us.