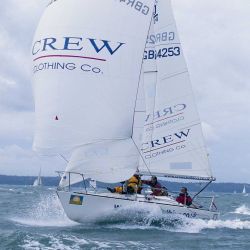 Photo © Crew Clothing
Speed
J/24
Difficulty:

intermediate

The J/24 was designed in 1977 and was soon established as the world's most popular keel boat - which it has remained ever since. The class is established in nearly 40 countries with well over 100 active fleets. This 24' keelboat is normally sailed with 5 but can be sailed with 4 or 6 as long as the total crew weight is under the class 400kg limit.

Size: 7.3152 metres long, metres wide, weighing approx kilograms


Number of sailors: between 4 and 6
Weight of sailor(s): ideally between 370 and 400 kilograms (if racing)

Links:
---

List of all boat types

If you notice an error or omission in our information, please contact us.