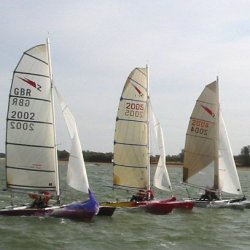 Photo © Bob Carter
Speed
Shearwater
Difficulty:

expert

The modern Shearwater has been refined and developed over a period of years to give a lightweight, strong, high performance catamaran. Hulls are now manufactured in either fiber-glass, wood, or carbon fibre.

This is a catamaran (it has two hulls)
Size: 5.09 metres long, 2.28 metres wide, weighing approx 120 kilograms
Sails: 15.1 square metres

Number of sailors: 2

Links:
---

List of all boat types

If you notice an error or omission in our information, please contact us.