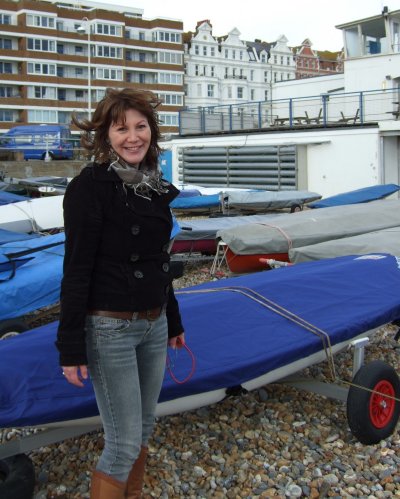 With thanks to:



Topper
Buy your first boat and get afloat
3: My first race
I reached up and down near the starting buoy and as we were the first to start, after the correct signals, it didn't take long until we were off. My lovely new boat handled like a dream, tacking and gybing was going well. As it is a small, compact boat you don't have to move too far across it as the conditions were light and some of the other Topper sailors (most of which were cadets) moaned that it was "so boring" as they wanted to go fast, I for one though was having a great time. On a few occasions, I did have to sit out as the wind picked up slightly on a reach.
As the hooter sounded as I crossed the finish l after the required 4 laps of the course I was jubilant. Time to head back to shore….had a few problems with the centreboard as I tried to lift it up coming in to shore but it kept slipping back down and I didn't want to hit the beach with it down. I think I should have taken it right out of the slot instead of just lifting it up, so will try this next time. No problem with getting the rudder up and I was safely back on the beach. I'd done it, my first solo sail in a Topper! The Topper is fairly light so not too much trouble getting it out of the water back onto the trolley. Where did I come…out of 7 Toppers, I came 5th…not bad for a first attempt! It was not so difficult after all; sailing with the other boats around the course made it much easier, more fun and helped my confidence.
Reading some of the useful books on dinghy sailing and setting up a Topper I noticed they often referred to a wind indicator and I think this would be a great help to me and any beginner to remind you where the wind is all the time. It stops you getting stuck 'head-to-wind' and helps you get the angle of the sail right for reaching and running. I ordered one from the chandlery and will try it out on my next sail. I am really looking forward to testing the boat out in slightly stronger conditions and a more choppy sea! Watch this space for the next instalment.
Susan
---
With thanks to:



Topper
More articles on starting sailing or racing