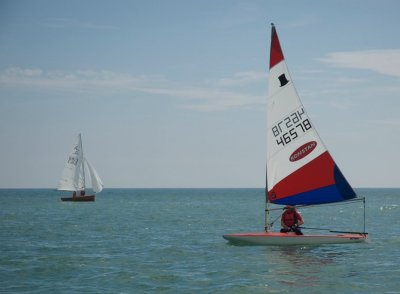 With thanks to:



Topper
Buy your first boat and get afloat
2: Launching
Taking the Topper on the trolley down the beach was fairly easy; it did need two of us on the rough cobbled beach but would be fine for one on a proper slipway. Right, time to get the centreboard attached to the mast and the rudder fitted easily into place….don't forget the bung…having previously taken it out, and kept it in my buoyancy aid pocket as they have been known to disappear from other Toppers! Do not forget this important item as I have watched another fellow Topper sailor get lower and lower in the sea during a race as he had forgotten to check his bung was in!
It was easy to lift the boat off the trolley and deposit it into the water, don't leave the boat though, get someone to move the trolley up the beach particularly if the tide is coming in! Launching and recovering is always the tricky point for single-handed sailors, so don't be afraid to ask someone nearby to take the trolley for you. In I got, having crewed in larger boats, I looked at my Topper and thought, 'Where is the rest of it'! It did seem very small to begin with. Everyone on the beach was shouting, "Get the centreboard in, and get the rudder down"! I found it a little tricky to begin with as being new, it was all a bit stiff…it didn't help that my fans were all saying, "You're turning back to shore"! Talk about stating the obvious! Anyway, I finally managed it, and turned the boat out to sea. The course for the race we were to follow was a nice simple triangle; going round the buoys to the right (starboard) there were seven other Toppers in the race plus various other boats.
---
With thanks to:



Topper
Previous page:

1

Rigging the boat

Finally the day and conditions had come where there was no excuse not to try out my brand new Topper!

Next page:

3

My first race

I came 5th - not bad for a first attempt!
More articles on starting sailing or racing