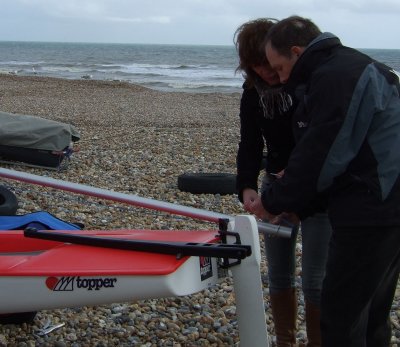 With thanks to:



Topper
Buy your first boat and get afloat
1: Rigging the boat
I took delivery of my new Topper dinghy back in April, having previously done a Level One course at my local sailing club and then gained further experience crewing and sometimes helming in a Miracle dinghy in club races. As a busy parent I donít always have the time to sail every weekend and to commit to a regular crewing position, so a single-handed dinghy that I can sail when I feel like it seemed the ideal answer.
It was all a bit baffling trying to rig the boat for the first time, but with the aid of the manual supplied by the manufacturer and some friends form the sailing club my new Topper was soon assembled on the beach and ready to go. Once the control lines were all rigged it seamed easier to leave most of them in place so I didnít have to remember how they all went next time I had to rig it on my own!
Finally the day and conditions had come where there was no excuse not to try out my brand new Topper! I must admit I had been a bit nervous of taking it out alone in a club race although I had sailed Toppers and other single-handers before on the sailing course. The conditions, everyone told me, were perfect, wind force 1 to 2, smooth sea, how could I resist! I had previously put the sail on the mast that I kept in a locked tube at the club, cutting down on my time rigging it and saving me from having to carry it home .The main sheet had been too long when I first got the boat, so a friend and experienced Topper sailor gave me a good tip of crocheting the end of the sheet to make it shorter and easier to grab, which I did. Rigging it up was fairly easy, it took a couple of tries to get the mast into the correct position but I finally managed it without too much difficulty.
---
With thanks to:



Topper
More articles on starting sailing or racing