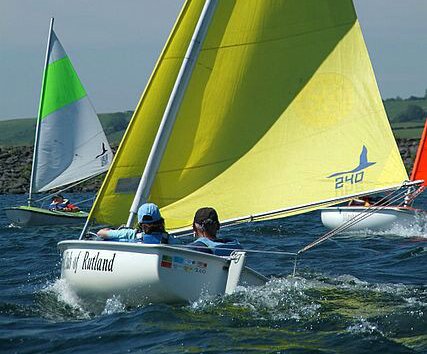 Download the
entire article
as a PDF
No Barriers
3: Other opportunities
A successful new initiative last year was the first RYA Sailability Multi Class Regatta, which took place at Rutland SC and brought together over 70 competitors in 53 boats from five different classes, ranging from the smallest Access to the Skud. The climax of the event was a giant pursuit race, which, incredibly, was won by an Access 303, sailed by Andi Dickson and Ian McNair, who became the very first holders of the Ken Ellis Trophy. This year's event will be held at Rutland, from August 8-10, and will be bigger and better than previously.
There is well-established provision for blind sailors, dating back more than 30 years to the first of the sailing weeks for the visually impaired. These are cruising-oriented, with beginners sailing relatively short coastal passages, while those with more experience generally sail cross channel. An audio compass enables blind helms to steer the boat. A recent development is that Poole Sailability members have produced a tactile chart designed to help blind and visually impaired members 'see' a chart of Poole Harbour.
There are also racing events for visually impaired sailors, culminating in the World Blind Sailing Championships for mixed visually impaired and sighted crews, with three different levels. B1 is a minimal or no vision team, made up of visually impaired helm, a visually impaired crew plus a sighted tactician and crewmember. The B2 team with some vision is made up of visually impaired helm, visually impaired crew, sighted tactician and crewmember. The B3 team has more vision, including a helm with functionally useful sight.
---
Previous page:

2

Unexpected freedoms

Luke Barbanneau has cerebral palsy, but becomes independent, free and exhilarated when sailing

Next page:

4

Getting kids afloat

One charity provides sailing opportunities for children with cancer, leukemia and other life-threatening illnesses
More articles on starting sailing or racing