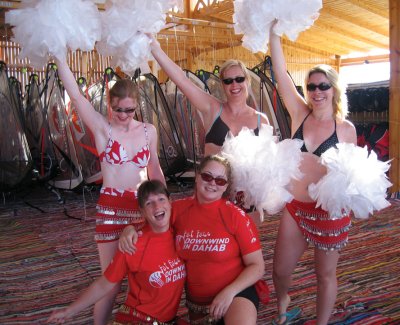 With thanks to:



Neilson


Download the
entire article
as a PDF


Show map or
satellite photo
Downwind in Dahab
6: Social preparation and further information
It doesn't pay to train too hard, so we took some time out to discover what other entertainment Dahab had to offer. The town was quiet and, being reliant on tourism, gave us a very warm welcome whether we were rug shopping or dancing the night away. Taxis were pretty cheap, although some take the form of an open truck which proved interesting at 0200hrs!
A highlight of the week was our evening camel trip for a Bedouin meal under the stars. The laughter started as we met our camels. After a rather bumpy ride, we dismounted and walked up higher to look down over the bay. Half-dozing on rugs we listened to tales of the area and the Bedouin culture before enjoying a traditional meal, picnic-style, followed by another very bumpy camel ride back downhill.
Further information
Neilson's base in Dahab, Egypt is open all year round and offers sailing, windsurfing, kitesurfing and mountain biking. You can even take a day trip to see the pyramids or the Nile. A week in May next year starts at around 673 Euros per person, see www.neilson.co.uk for more details.
---
With thanks to:



Neilson
More articles on sailing holidays