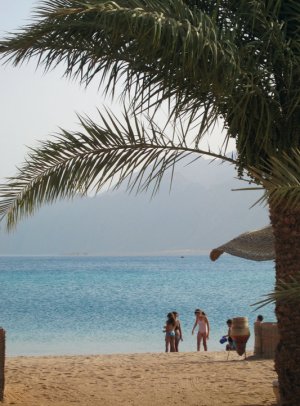 With thanks to:



Neilson


Download the
entire article
as a PDF


Show map or
satellite photo
Downwind in Dahab
4: Sailing in Dahab
I have to admit that I didnít do much sailing during the week, not only was there not time, it wasnít as simple as just dragging a dinghy down the beach: the main part of the lagoon is reserved for windsurfers, so the sailing instructors take any dinghies down to the southern end of the bay where they are rigged and anyone wishing to sail is ferried down by RIB.
Dahab isnít an ideal place for beginner sailors. Big breezes do tend to dominate, but, if you are a keen sailor who fancies learning windsurfing or building up your windsurfing skills with the odd morning or afternoon of blasting around in a dinghy, this is a great venue. Similarly, if you are a keen windsurfer and fancy trying dinghy sailing when the breeze is down then you wonít be disappointed.
When I did get out, it was fantastic. Flat water and strong winds delivered some awesome sailing. We soon discovered that we had a pretty strong team; Niki was happy on the trapeze, and after a trip out with Hugh in a Laser Vago, Adam happily traded his windsurfing harness for a sailing one, while the rest of us had plenty of experience between us. In fact we were disappointed that we only needed one helmsman.
---
With thanks to:



Neilson
Previous page:

3

Windsurfing heaven

What made the biggest difference was Johnís shoreside demonstration

Next page:

5

Competition time

Adam followed me the whole way across, shouting encouragement
More articles on sailing holidays