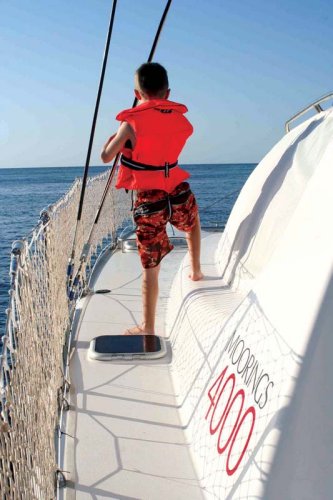 With thanks to:



The Moorings


Download the
entire article
as a PDF


Show map or
satellite photo
Grand-prix cruising
6: The family view (and contact details)
Jack Mulligan (6): I want to be a Sea Scout so we can sail to the beach.
Jodie Mulligan (4): I liked sailing to the seaside best.
Lisa Mulligan: The catamaran was fabulous and we'd love to go cruising together again; obviously while Jack is training with the Sea Scouts we'll need Ian to skipper! Exploring by car holds no appeal now.
Rob Mulligan: I'd have loved to have done more sailing, but it would have been a struggle with the kids. It's best to keep distances between anchorages relatively short with small children on board, but they loved it, I never once heard them complain of being bored. The catamaran's greatest asset was the trampoline up front between the hulls, which kept the kids bouncing for hours, and their confidence in the water grew daily.
Bareboat charters with The Moorings are available in the Mediterranean, Caribbean, and worldwide. For more information visit www.moorings.co.uk or call +44 (0)844 4636875.
---
With thanks to:



The Moorings
More articles on sailing holidays