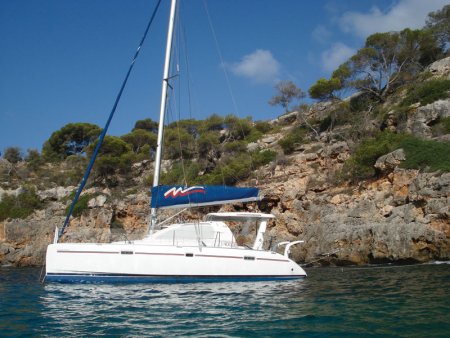 With thanks to:



The Moorings


Download the
entire article
as a PDF


Show map or
satellite photo
Grand-prix cruising
5: Chartering questions and answers
Do you have to be qualified to charter a boat?
With The Moorings you have to fill out a sailing experience resume online ó no formal certification is required.
Biggest disappointment?
Not going to Isla Cabrera and not seeing any dolphins.
Best bit of the holiday?
Motoring at sunset with the kids asleep and a glass of Rioja in hand.
Worst bit of the holiday?
Clearing blocked toilets.
Most useful things to take?
Lots of games for the young ones and an iPod.
Biggest lesson learnt?
Most cruising boats are probably on autopilot (we certainly were most of the time) so donít get too near them. Most of them seem to be naked too ó especially the Germans!
Plan your trip before you arrive ó you will need to book permits for nature reserves and marina berths if you need them. Marinas donít like catamarans as they take up too much space.
The nicest anchorages may not be best in high season as everyone else will be there. Itís always worth finding a good anchorage overnight.
Put depth marks on your anchor chain so you know how much youíve let out.
Keep the water topped up and use it sparingly as you get through it fast (we used 900 litres!)
You are supposed to tell The Moorings if you are going to sail or motor at night.
Book a nice hotel for the night you get back as your wife will need it even if you donít.
Buy the Imray pilotage book Islas Baleares by Graham Hutt ó it is essential reading.
---
With thanks to:



The Moorings
More articles on sailing holidays