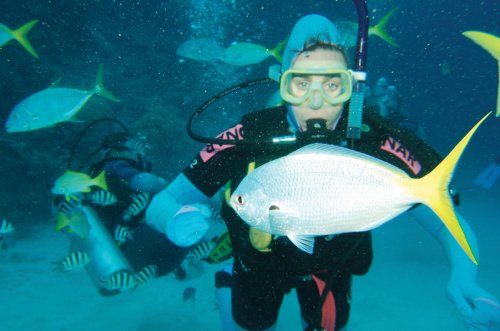 With thanks to:
Whitsunday Rent a Yacht




Download the
entire article
as a PDF


Show map or
satellite photo
Easy like Whitsunday
5: Snorkeling
Although Butterfly Bay is reasonably sheltered, as the breeze built overnight we realised that our mooring buoy was a double-edged blessing. We definitely weren't going anywhere in a hurry, but as the winds spun off the surrounding hills 'Amelie' danced around the mooring with both chain and ball clanging against the hull. Despite increasingly bad-tempered attempts to free it, it persisted it thumping loudly right through the night, sounding as if the bouy was about to join us whilst we attempted to sleep in the forepeak.
The next morning, we opted to shake off our doziness with a dip in Luncheon Bay. Still feeling a wee bit nervous about the many things that will apparently eat you if you step into Australian waters, we were relieved to find several dive boats with beginner scuba and snorkelling groups nearby. Although the bay had several unoccupied beaches, we opted for company and enjoyed some fantastic snorkelling over the coral, finding the occasional 'Nemo' clownfish hiding among the anemones.
Feeling braver, we hopped back in our 'flubber' (actually a particularly robust tender) and motored round to Manta Ray Bay, famous for, unsurprisingly, a giant Manta Ray. A group of swimmers in the water were shrieking with excitement, so I popped my mask on and dunked my head over the side to sea what all the fuss was about — and came face to face with a shoal of extremely curious zebra and parrot-painted fish, it honestly felt like I'd stuck my face in an aquarium! Swimming off the beach we were soon joined by something about 4ft long which we uncertainly identified as a Wrasse, and literally hundreds of jewel-coloured fish, although the ray was obviously busy elsewhere.
---
With thanks to:
Whitsunday Rent a Yacht


Previous page:

4

Sharks and jellyfish

The Whitsundays effectively have one giant 'No feeding the animals' sign

Next page:

6

Finding new beaches

Macona is a particularly picturesque spot and a useful anchorage in most wind directions
More articles on sailing holidays